Quality beyond comparison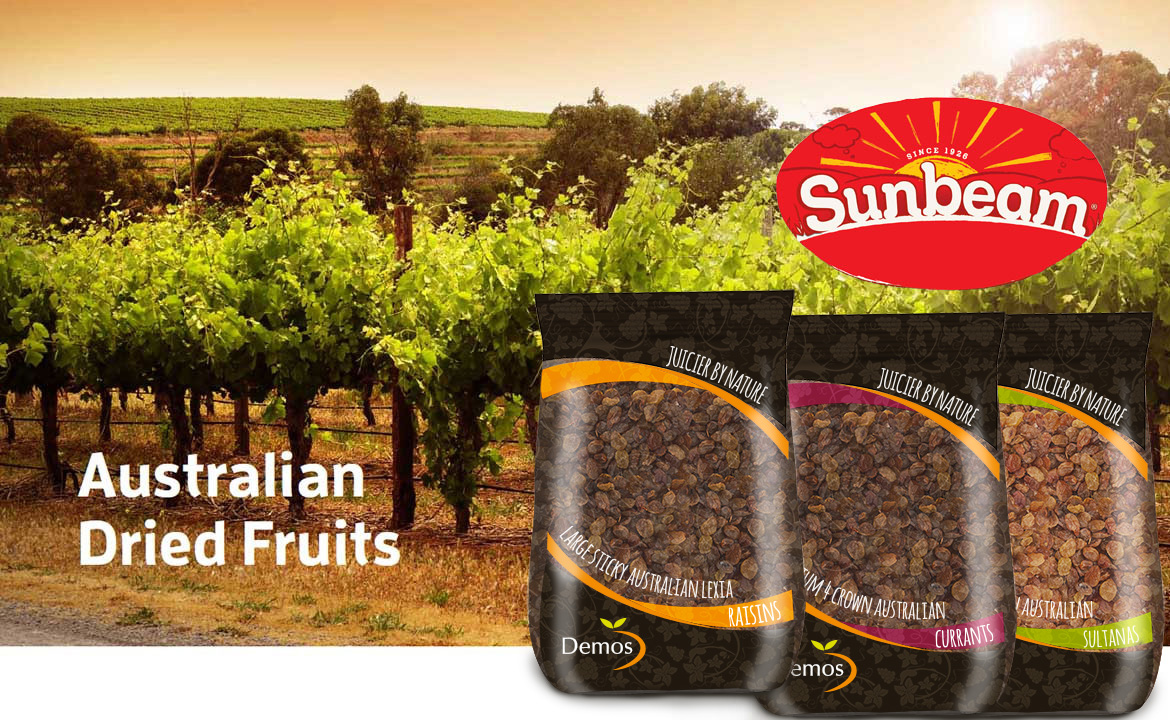 PREMIUM AUSTRALIAN 5 CROWN SULTANAS, LEXIA RAISINS & SUN MUSCAT SULTANAS
Australian dried fruits are some of the best in the world. Their flavour and texture is different to Turkish fruit and is popular with our retailers and craft bakeries who need a unique product with a point of difference.
We are proud to have imported and distributed Australian dried fruits for many years and are currently the exclusive distributor for Sunbeam Foods, who are the largest packer of Australian Dried Fruits.
We are able to offer this high quality product which is justifiably famous for both its taste and appearance from our stocks here in the UK in a bulk pack. We also have the facility to repack into either a retail 375g or 500g pack, or indeed any larger catering sized bag.
Sunbeam Foods who has been established since 1926 and source their fruit from 350 growers across Victoria, South Australia, New South Wales and Western Australia. The factory has recently invested in state of the art machinery that is BRC accredited.
The grapes are grown along the Murray River, the largest river in Australia, in the Mildura area known as the sun drenched region. The soil is rich which is ideal for the grape vines for both wine and dried fruit. Up to four kilograms of freshly picked grapes are required to produce just one kilogram of dried fruit. No sulphur is used in the process of drying Australian grapes. Sultanas, Raisins and Sun Muscats are sprayed with an emulsion of Potassium Carbonate and a refined vegetable oil. This alters the wax layer of the skin of the berries allowing moisture to pass through the grapes so they dry faster.
Sultanas are graded in colour and in our opinion the 5 & 6 crown sultana is the most premium sultana on the market, with its attractive light amber colour, sweet flavour and juicy texture.
Australia also grows its own currants too and is an alternative to Greek currants if there became a shortage of the latter.
Our Australian dried fruit is of premium quality, plump and juicy
Ideal for artisan baking.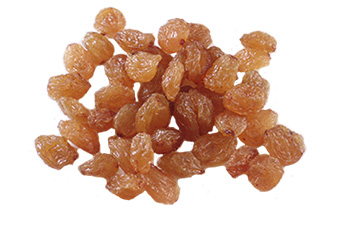 5 & 6 Crown Sultanas
Naturally light in colour, more juicy and fleshy than similar vine fruits. A dried fruit of exceptional quality.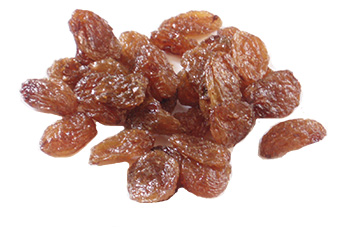 Lexia Raisins
Lexia raisins are dried seeded Muscat grapes, with large sticky, sweet, caramelised tasting berries. Lexia raisins are an ideal ingredient for luxury puddings and cakes.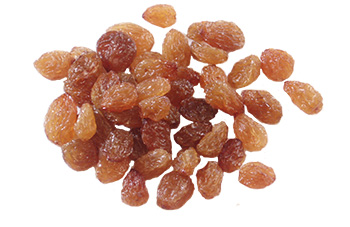 Sunmuscat Sultanas
Sunmuscat sultanas from the Muscat grape and have a unique sweet flavour similar to the muscat wine. The berries are lighter in colour than most traditional varieties of raisins with a fleshy plump texture.
The flowering and fruit set period was prolonged due to cool and wetter conditions. The subsequent fruit set has been good on all varieties. These cooler and wetter conditions didn't hamper the vine vigour as canopies quickly covered the trellis area. Continual small rain events through Spring and Summer have caused concerns around disease control. A thunderstorm and rain in late January, delivered between 10mm in some areas and 120mm in others, causing very minor crop damage with some berry splitting. Growers had delayed access to their properties as water lay in the vineyards.
No sunburn damage or pest issues but disease pressure continues, growers are continuing their preventative sprays up to harvest A good crop of Sultana types is expected.
Overall the crop is estimated is similar to 2021. Fruit maturity is 7 10 days behind 2021 2021/2022 Growing Season.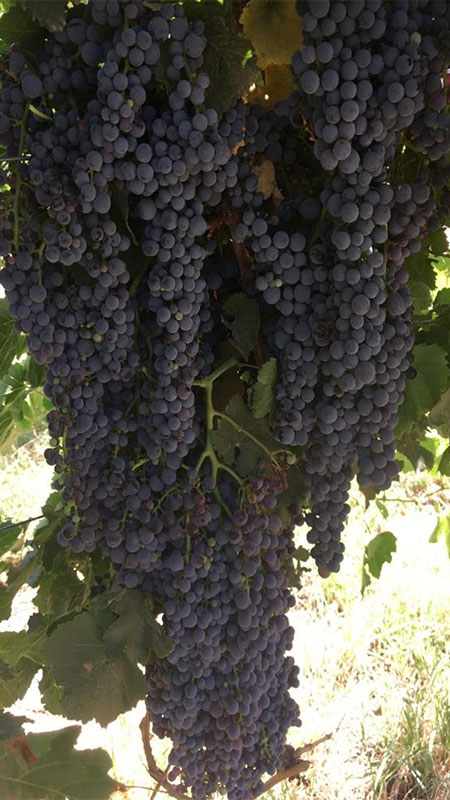 Carina Currants on the vine
2022 Crop – A prolonged flowering and berry set on the Carina Currants has produced a consistent crop, typical of this variety.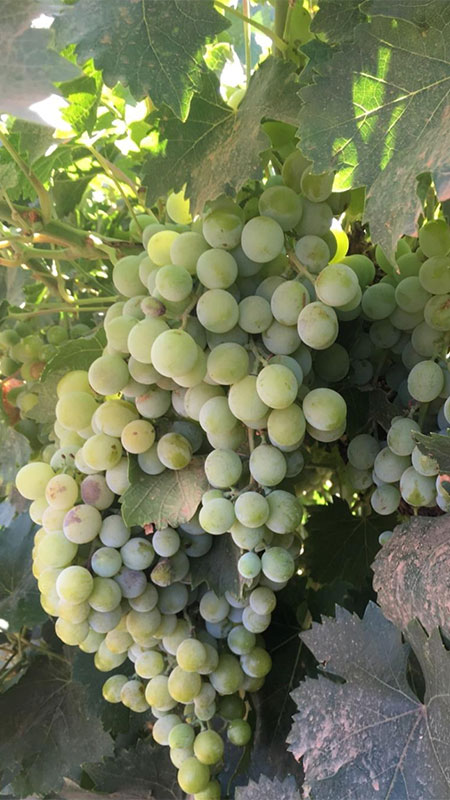 Lexia Raisins on the vine
2022 Crop – Berry size is increasing and a good set will see crop yields similar to the 2021 crop.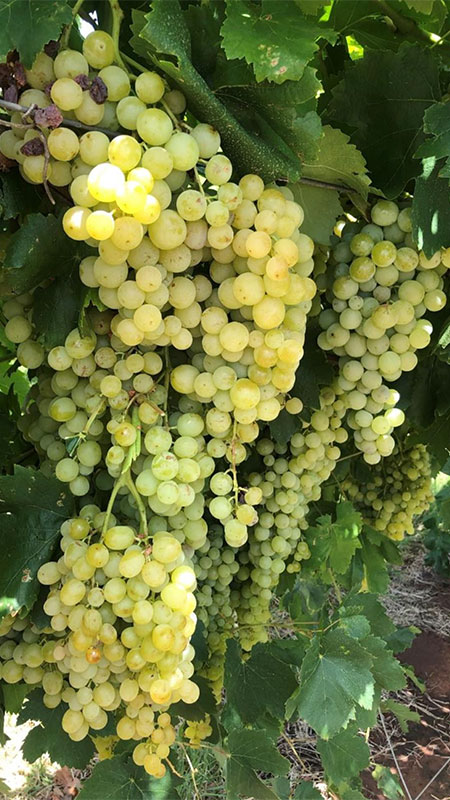 Sunmuscat Sultanas on the vine
2022 Crop – The bud burst and flowering was good and consistent with the variety. Crop size will be similar to 2021.
Call for details and prices of the latest crop from Australia
Office & Factory
Demos Ciclitira Ltd
Park Drive Industrial Estate
Braintree
CM7 1AW
Registered Offices
Capitol House
60-62 Leman Street
London
E1 8EU
Contact
T: 01376 321272
F: 01376 552160
E: info@demos-uk.com